We love hearing about YOUR journey to finding fitness, particularly as each one is so unique and personal. Whether you're a new mum, a fitness phobe or someone who classes carrying the shopping in from the car as exercise, we want to help you find fitness and hear about your journey!
One of our amazing IdealFit ambassadors, Emele, turned to fitness after a very difficult period in her life and we are so inspired by her journey. If you haven't already read Emele's story on surviving an eating disorder, please do. It's incredibly brave of her to share it and it really is amazing to see how far she has come now.
Following on from this, we asked Emele about her journey to finding fitness after recovering from anorexia.
Q. Welcome back Emele! So, just to recap let's hear more about YOU!
Hey! So, I'm 18 years old and am living in Ireland. I'm currently in my final year of secondary school and am hoping to study sport and exercise science in the UK afterwards!  (Something I NEVER thought I would do!) One of my biggest passions is strength training. I absolutely love it and I truly believe it was one of the major factors that led me away from my eating disorder. In my spare time, I run my Instagram – @emgainstrength and I use this platform to share my advice and use the power I have to spread awareness and help those with eating disorders.
Q. You're such an inspiration and your journey to recovery has been amazing. We'd love to hear more about how you found your passion for fitness after recovery.
I actually found fitness through YouTube! I stumbled across a fitness YouTube's "what I eat in a day" and kept watching her, which led me to begin to watch her friends doing the same thing. I spent about five months thinking about joining a gym (but had fallen back into binging at this stage so I think it was solely for the point of controlling my weight).
In February 2017 I went to my first fitness meet-up. I went only because it somehow happened to clash with a trip to London I was making. I was so shy, so anxious and SO terrified. I remember seeing how amazing people looked and how happy everyone was to come together and I remember, despite how much I thought my anxiety ruined that day for me, "I want that to be me". I went home after that trip, and I bought myself a gym membership. I didn't know where on earth it was going to lead me, or if I'd stick to it, but here I am!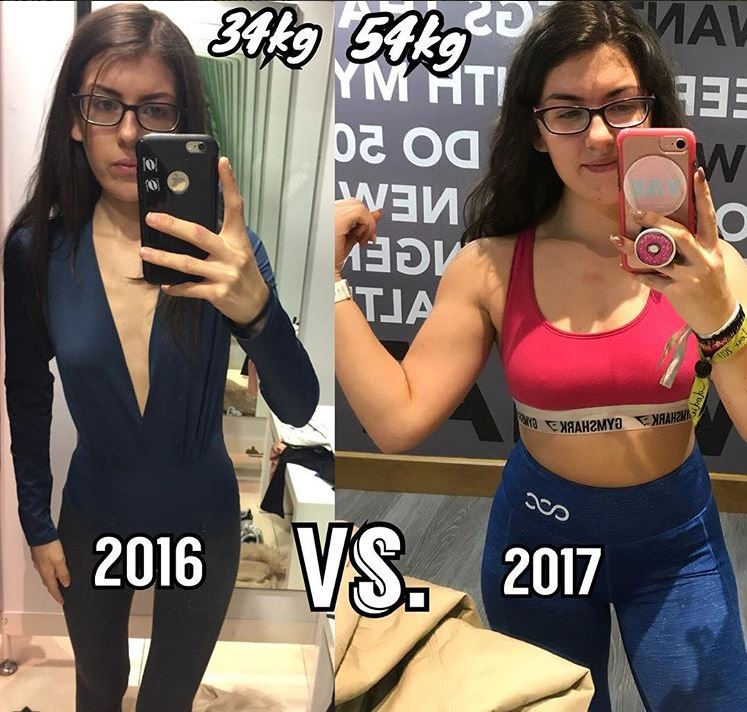 Q. How has fitness changed your life?
Firstly, I never expected it would change my life. I never thought going to the gym would be any more than doing it for the sake of getting a nice body or keeping my weight under control. But, I fell in love with weightlifting and I do it now because it makes me feel powerful. Seeing my body grow stronger and weights on a bar or dumbbell becoming bigger makes me feel like I'm achieving something and I thrive off that feeling! I now eat foods I love because I enjoy them and because they can directly impact my performance when I train. I'm not afraid of any sort of "high calorie" things anymore because I know they're giving me the energy to have a fab session and constantly be energy-fueled.
Q.How do you feel now? How would you describe your life now?
I feel amazing! I'm not going to lie, lifting, of course, isn't the resolution to everything and there are still difficult times in my life but I genuinely feel the best and MOST ME I've ever felt! I enjoy life, and I love knowing despite how down I'm feeling there's always something I can look forward to in a day.
 Q. What does a normal day look like now? 
I currently train four times a week, which is a perfect amount for me as I still have to try to balance my school and social life. I'm currently working with my coach, Luke, on improving my lifts and maintaining a healthy relationship with food. Food isn't something I worry about and it isn't the MAIN focus in my life as it once ironically was.
Q. How does your life compare now you have found fitness, what can you do now that you couldn't before?
For me, even the simplest tasks were difficult. Due to my eating disorder, I'd literally struggle going up the stairs, which wasn't ideal for being in a school with 3 different floors. I was FREEZING all the time and despite scalding myself with a hot water bottle each night, I just couldn't get warm. My period was completely gone, and I felt like a different person to who I ever had ever been before. Now, I eat healthy, nourishing foods and because of this, my body is capable of doing incredible things. Not only are day-to-day tasks as easy as they should be for most people, but my strength and ability to push through workouts is just amazing!
Q. Your journey is so unique and we absolutely love everything you stand for now! However, there will of course be people who are suffering from eating disorders who probably can't see themselves getting to where you are now. What advice would you give them?
Something massively important in recovery is breaking a cycle. Recovery is by no means easy at all. Stop body checking and delete every photo on your phone of yourself which you compare yourself to. Recovery is possible, regardless of how impossible that may seem right now. There was a time not so long ago when I thought life would be like this for a long long time, and if not, forever…and look where I am now.
If you have a fitness journey you want to share with us, let us know on social @idealfituk! We would love to feature your journey to finding fitness to help inspire and encourage others with incredible stories, just like Emele's.