A big part of eating healthily comes from planning ahead, but sometimes finding the ideas of what to prepare can be the hardest part. That's why we've put together 5 healthy meal prep ideas that will help you stay on track towards your health and fitness goals.
Egg & Chicken Sausage Breakfast Wrap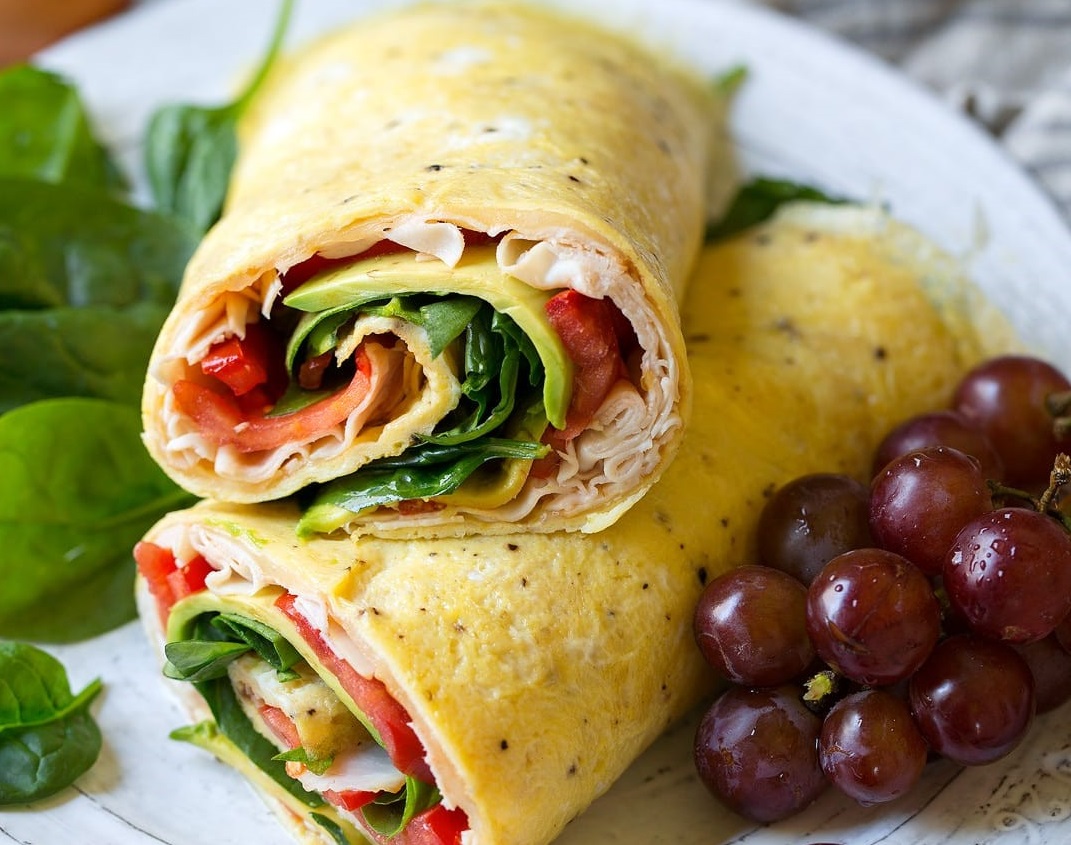 Photo credit: cookingclassy.com
With delicious chicken sausages wrapped in an egg white wrap, this high protein recipe is a perfect low-carb healthy meal prep option. Enjo as lunch or have as a light breakfast to kick-start your day!
Ingredients:
2 Wraps:
Low-calorie cooking oil spray
2 large egg whites
The Filling:
2 Chicken Sausages
1 chopped up salad tomato
4 Chopped up C=cooked mushrooms
Spinach & Mixed Leaf Salad
Optional: No added sugar or salt Heinz ketchup (only 6.8Kcal per tablespoon!)
Recipe Instructions:
Cook your chicken sausages as instructed – for best results grill for 12 – 15 minutes. Once cooked, slice your sausages.
Whisk one large egg white well.
Spray a large non-stick pan with low-calorie spray and heat for around 1 minute
Add your egg white and by tilting the pan, quickly move the egg white around the pan so the entire pan is thinly covered.
Turn the heat down low and cook until the edges of the wrap begin to peel away and you can lift and remove your wrap easily without it sticking.
Follow the same instructions to make a second wrap.
In a pan cook your chopped mushrooms and tomato.
On your wraps add sliced sausages, cooked mushrooms and tomato and a small handful of mixed leaf salad or spinach. Add sauce.
Close and roll up your wraps and your good to go!
Nutritional Information:
Calories: 185Kcal
Protein: 20g
Carbs: 10g (sugar: 5g)
Fat: 5g
Healthy Meal Prep Chicken Skewers & Greek Salad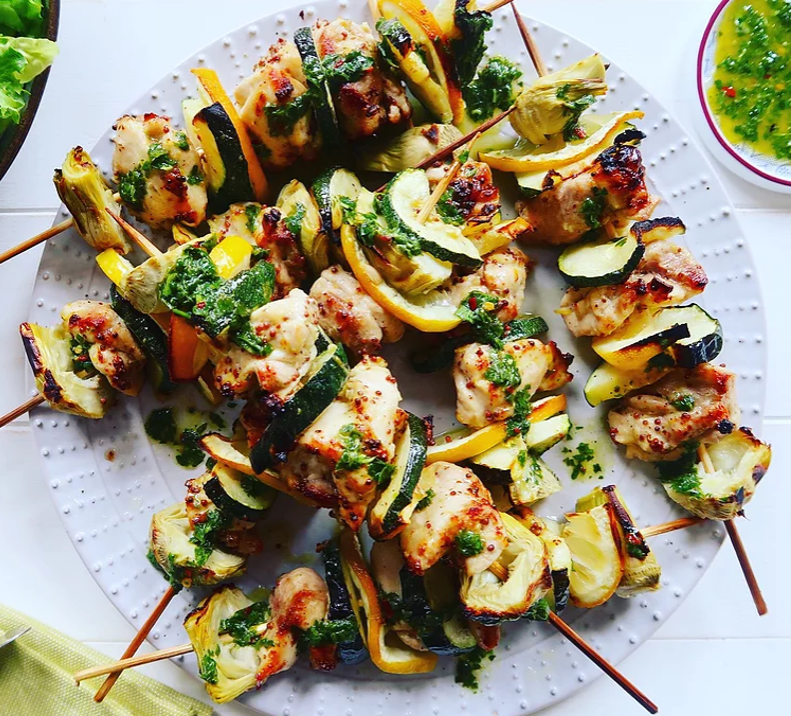 Photo credit: claudialicious.co.uk
Now summer is here we can officially start enjoying light fresh salads for lunch – and this chicken skewer recipe is perfect for enjoying in the sun or taking on the go!
Ingredients:
Skewers:
1 Chicken Breast (125-150g of chicken breast)
Half a courgette
4 Cherry tomatoes
Half a red onion
Half a pepper
Optional: Cajun or peri peri spice
Salad:
100g of mixed leaf salad
50g of cucumber
1 salad tomato
5 black olives (for lowest calories select a jar in brine)
25g of Greek-style cheese
Sprinkle of oregano
Recipe Instructions:
Preheat the oven to 200 degrees.
Season your chicken breast with Cajun or peri peri spice and chop up into large chunks.
Slice your courgette and chop your onion and pepper halves into large chunks.
To wooden skewers add your chicken, cherry tomatoes and other vegetables. Sprinkle with salt and pepper and spray with low-calorie spray.
Cook skewers in the oven for 20 minutes.
Chop your Greek style cheese, cucumber and salad tomato and with olives and 100g of mixed leaf salad a bowl or Tupperware box. Sprinkle with oregano.
Once cooked and cooled add your chicken skewers to your salad and enjoy!
Nutritional Information:
Calories: 330Kcal
Protein: 40g
Carbs: 17g (sugar: 15g)
Fat: 11g
Fajitas & Lettuce Wraps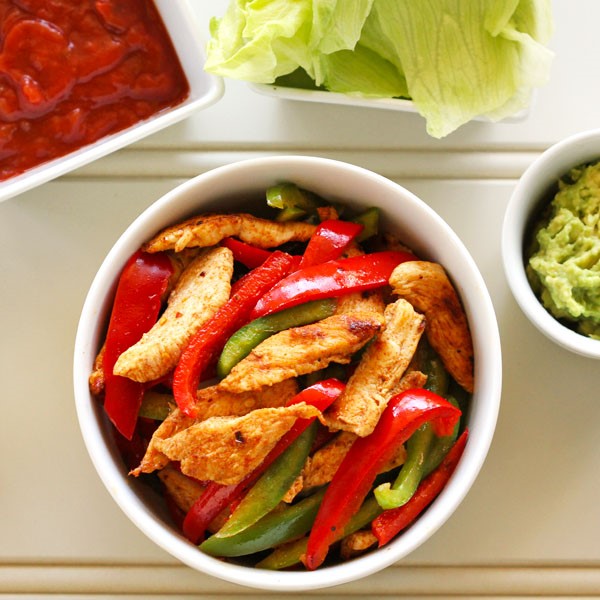 Photo credit: beforeverhealthier.com
Spice up your meals with this healthy fajita recipe! The recipe is enough for one meal – add more chicken and double your veggies to make more meals for one of our favourite healthy meal prep meals.
Ingredients:
4 large iceberg lettuce leaves
125g of diced chicken breast
Fajita seasoning
1 bell pepper
½ a red onion
1 clove of garlic
4 medium mushrooms
2 diced salad tomatoes
Optional: salsa & sour cream
Recipe Instructions:
Dice your chicken breasts and season with a packet fajita mix.
Finely chop your garlic and slice all your vegetables except the lettuce leaves. Spray a large pan with low-calorie spray and add your chicken and vegetables.
Cook on a medium heat for around 15 minutes until cooked thoroughly.
In each large lettuce leaf add your fajita filling and sauces.
Roll your leaves into wraps and that's it – easy!
Nutritional Information (without salsa & sour cream):
Calories: 270Kcal
Protein: 36g
Carbs: 26g (sugar: 16g)
Fat: 4g
Power Burrito Jar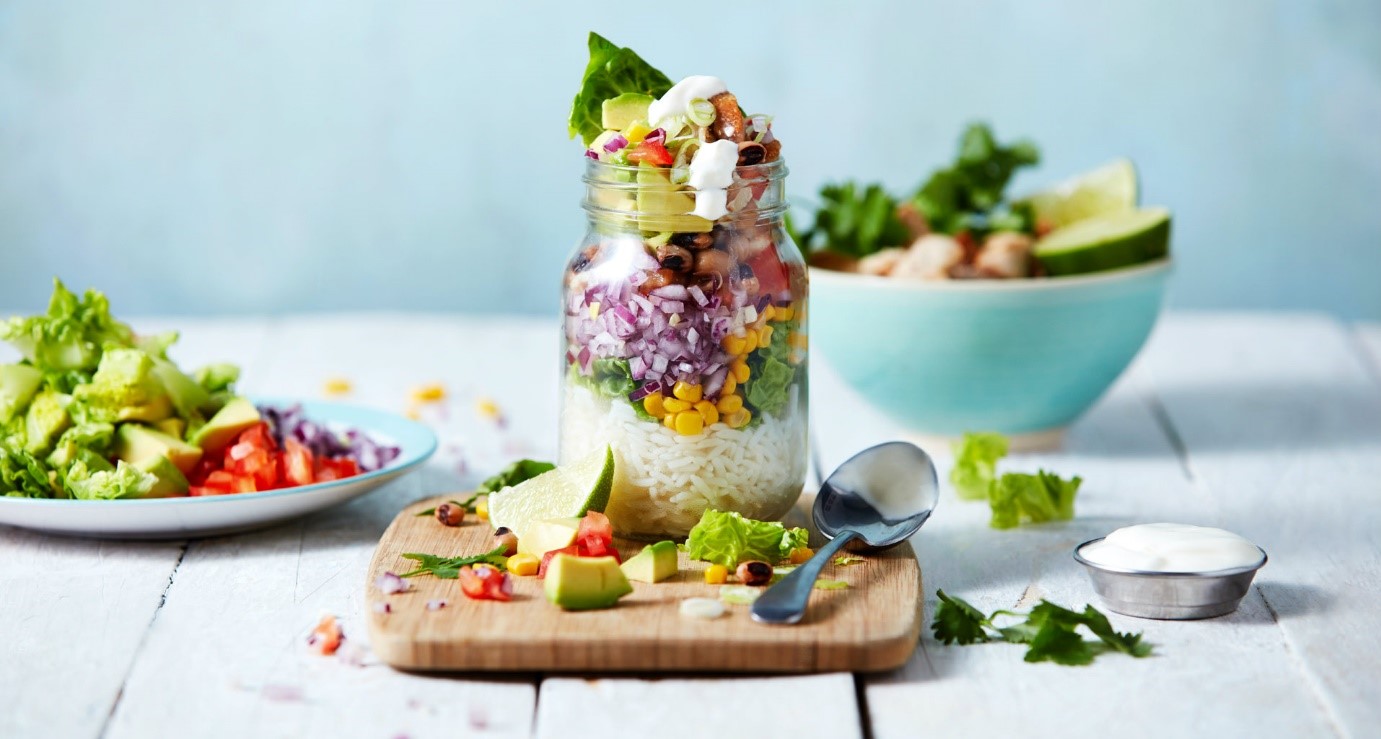 Photo credit: www.myprotein.com
Ok, so we admit layering this perfectly in a glass jar makes absolutely no difference to the taste, but how cute does it look? Plus stacking it in a jar like this does actualy make it a very convenient way to prep and take with you!
Ingredients:
125g chicken breasts
1 tomato (finely chopped)
¼ of a chopped avocado
1 tbsp of tinned sweetcorn
1tbsp of mixed means or black beans
Salt & pepper
¼ of a red onion (finely chopped)
25g of Mixed Leaf Salad
90g of cooked quinoa (30g dry) or rice
Mixed her seasoning.
Recipe Instructions:
In a large non-stick pan add low-calorie cookie spray and your diced chicken breast. Add desired seasoning or mixed herbs. On a medium heat, stir for around 15 minutes until cooked.
Cook in a pan with boiling water, 30g of dry quinoa ( will make 90g of cooked quinoa – for more meals cook your quinoa in bulk 60g of uncooked = 185g when cooked).
Dice your onion, tomato and avocado and mix with beans and sweet corn.
Add chicken and mixed herb seasoning to your vegetable mix.
In the bottom of your jar add quinoa or rice, then layer with your vegetable mix, chicken and salad.
Nutritional Information:
Calories: 375Kcal
Protein: 38g
Carbs: 35g (sugar: 6g)
Fat: 9g
Courgetti Bolognese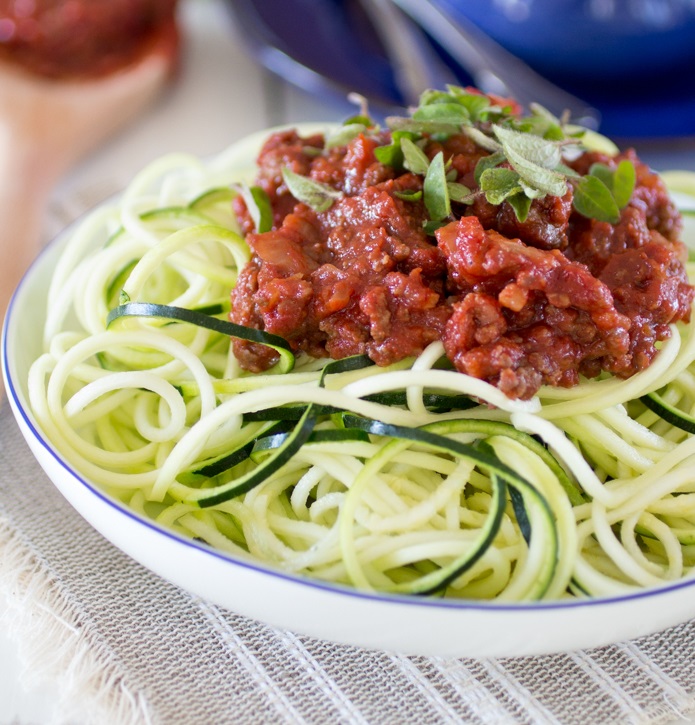 Photo credit: eetpaleo.nl
If you are a pasta lover (who isn't?!), then this is a perfect and delicious healthy alternative that can be made in bulk for a simple and healthy meal prep!
Ingredients:
1 spiralised medium courgette (or buy already prepared)
1 clove of garlic
Salt, pepper & Mixed herb seasoning
125g of turkey mince
½ of a red onion
4 mushrooms
1 salad tomato
150g of passata
½ a bell pepper
Recipe Instructions:
Chop or finely dice all your vegetables.
Spray a non-stick pan with low-calorie spray and add garlic and turkey mince. Stir for a few minutes until partially cooked.
Add in your vegetables and continue to stir for 10 minutes until cooked.
Add your passata and courgette to the mix and cook/simmer for a further 5-8 minutes.
Add to a bed of spinach and enjoy!
Nutritional Information:
Calories: 275Kcal
Protein: 36g
Carbs: 22g (sugar: 18g)
Fat: 4g
Discover more of our healthy, high-protein recipes!