Can women benefit from protein supplementation? Yes! Do women have different nutritional needs to men? Yes! But most of the information out there about protein and nutrition is geared towards men, and more specifically men who want to build muscle and 'bulk up'.
Not only is the female body different, but most women's workout and weight loss goals are likely different as well. This IdealFit complete guide to protein for women is specifically designed so you don't have to trawl through the Internet to find out what's best for you and your body…
Why Women Need Protein
Protein is one of the most important parts of all of our diets, but the majority of people don't fully understand why, or even how much protein we need each day. As a Certified Nutritionist and Personal Trainer, I have helped countless women reach their health and fitness goals by improving the way they eat. I've separated this guide into four simple sections so you can find everything you need to know about protein:
1. Are You Getting Enough Protein?
If there's one thing we constantly hear about, it's getting enough water. Every day I see more and more advice about how much water we should be consuming every day, whether for weight loss or for general health or to help us focus better at work. More and more of us are understanding the importance of staying hydrated and chances are – if you're serious about staying fit and healthy – you're probably on top of your water intake, which is great!
But do you ever hear people talk about getting enough protein in the same way? I definitely don't. And yet getting enough protein is just as important as getting enough water, especially for women who live healthy, active lifestyles.
Important to note here: active doesn't have to mean "bodybuilder" or "marathon runner". Active can mean a busy mum who runs around with the kids, as much as someone who hits the gym 2-3 times a week, or even just someone who lives a full and action-packed lifestyle!
Protein in all of these cases is essential fuel for our bodies when we are active and even more so when working towards a fitness goal. So, how do you know if you're getting enough protein in your diet? Are there clear signs or ways of measuring your daily protein intake?
Signs you might not be getting enough protein
Craving sugary foods
Sugar cravings can seem like a normal part of everyday life, but did you know that they could be caused by a lack of protein? Protein plays an important role in keeping your blood sugar stable and a protein deficit can cause your blood sugar to spike, tricking your body into thinking it needs sugar NOW and this craving – often paired with a feeling of fatigue or tiredness – can leave us reaching for a sweet treat to perk us up.
When our sugar levels spike or slump, our bodies crave high-sugar foods like chocolate, cupcakes and sweets. Consuming more protein can help stop these sugar fluctuations and their resultant sugar cravings in their tracks. Get enough protein in your diet throughout the day and your blood sugar levels will be more stable; as well as this, you might find yourself craving the sweet stuff less often than before.
You're stressed
Did you know that when your body is stressed, it released hormones which can actually break down your muscle tissues? Crazy, right?! It's no wonder that stress makes us feel so terrible and leaves us feeling emotionally and physically drained. And I'm not just referring to frustrations at work, screaming kids, traffic jams or the whole of Christmas.
Exercise also counts as physical stress on the body. Believe it or not, a good workout at the gym causes the same stress hormones to be released. Exercise is undoubtedly good for you, but it does make physical demands on your body, particularly if you push it further and further each time.
To stay healthy and maximize the effects of exercise, then, we need to ensure we are consuming enough protein to support recovery post-workout. Consuming enough protein can also have a positive impact on your stress levels and make you feel less anxious overall.
You want to lose weight
We all want to look and feel our very best and many us might be thinking about losing a couple of pounds from time-to-time. But did you know that when you drop calories in an attempt to lose weight you can also accidentally reduce your muscle mass too?
Have you ever heard the term "skinny-fat"? It's when someone looks thin but has no muscle tone or definition. They aren't overweight, but they are also not fit or particularly healthy. 'Skinny-fat' happens when you cut calories and don't get enough protein! When you reduce your caloric intake, you should actually increase your protein intake to ensure that you can maintain the lean muscle mass that makes your body look it's very best.
One thing you don't have to worry about is 'bulking up'. Trust me, as a woman, it's not something you need to think about. Increasing your protein intake will make you look more toned and lean; certainly not bulky! Another great benefit of getting more protein in your diet? Eating more protein will actually make cutting calories even easier by making you feel more full. Protein fills you up better than anything else, so you might find yourself craving fattening foods less often.
You're tired
If you find yourself feeling exhausted after a perfectly normal day or after finishing a workout, a protein deficit could be the culprit. This is because protein fuels your depleted muscles: your body doesn't just use carbs for energy, it also uses protein and fat, and protein also helps to rebuild your muscles. When you work out – or simply live your everyday life! – you break down muscle fibres, and your body uses protein to repair those fibres and build them back up.
Aging can also be a factor: as you grow older, you may actually need more protein than you did as a younger woman. And that goes double for women who stay active as they get older! (Of course, if you're suffering from chronic unexplained fatigue, you should see your doctor first).
Nearly all of us suffer from some daily stress, and if you do tough workouts as well, you're further stressing your body with exercise. And who knew that you might be able to curb sweet cravings with more protein?! Upping your daily protein intake might make it easier to resist the can of Coke that's been calling to you from the drive-thru, or the half jam sandwich that your kid left behind at lunch. Plus, protein can help you get the toned body you want and even give you more energy!
So why do so many women neglect their protein needs? The answer is simple, really: women aren't informed enough about just how important protein is in their diets. Most of us need to inform ourselves about what we active women really need in our diets.
Now, let's take a look at some harmful myths about protein that convince women they shouldn't be consuming as much of it as they should.
2. Myths Uncovered: Protein and Women
Okay, ladies, be honest: how many of you flinch slightly as soon as you're told to eat more of anything? That's what I thought. As women, we want to stay lean and slim, and we're conditioned to believe that consuming more of anything could make us put weight on. Isn't salad the way to go when you want a lean body?
Most protein myths revolve around this mistaken belief that a woman's diet should be all about whittling down the calories until there's barely anything left. But there are even more myths about protein out there. We've uncovered the top myths about protein to help you uncover the truth.
Myth Number 1: Taking protein will make me bulk up (like a man)!
By far the biggest myth out there about taking protein supplements is that they will quickly bulk you up to look like Arnold Schwarzenegger circa 1970! And yet, let me tell you girls particularly: just adding more protein to your diet will not make you look like a male bodybuilder. Just because male bodybuilders love protein doesn't mean that protein will make you, a woman with totally different hormones, bulk up like one!
Despite our differing body compositions, men and women metabolise protein similarly. Protein is a macronutrient that everybody needs to build and maintain lean muscle. And lean muscle is what gives you the sleek, toned (and feminine) body you want. In all honesty, taking male hormones, not just protein, is what will make women look more like men, and protein just does not contain those!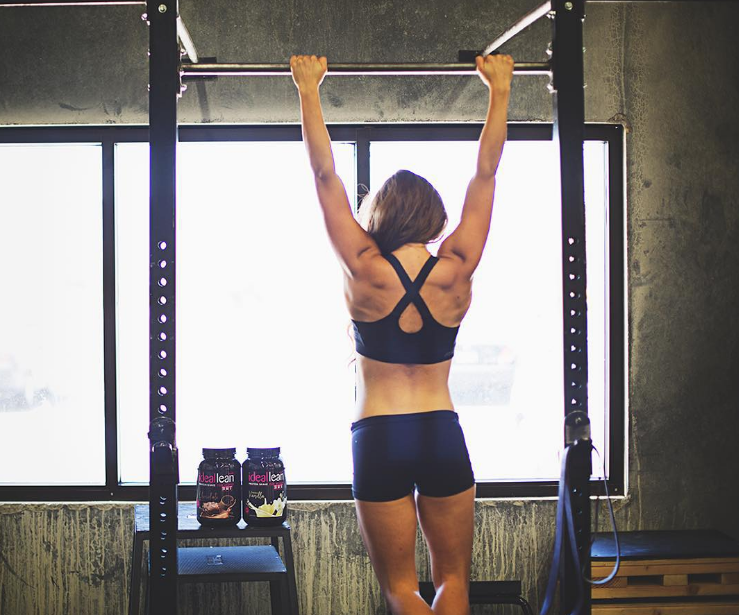 Myth Number 2: Protein will give me Osteoporosis!
I've seen this one all over the internet lately. Osteoporosis, a thinning of the bones, is a concern for most women as they grow older; after all, women who have passed menopause are the most at risk for this disease. Luckily, getting adequate amounts of calcium and doing weight-bearing workouts, like strength training and jogging, can prevent its onset.
The worry about protein and osteoporosis is that protein might somehow leech calcium from the bones and increase the risk of osteoporosis. This protein myth arises from protein increasing the body's acidity and thus the body utilising calcium from bones to neutralize that acid, when, if anything, calcium strengthens your whole body – your muscles, as well as your bones.
But while we're on the subject of osteoporosis, women do need to make sure that they get enough calcium and vitamin D to prevent it. A protein supplement made for women like both IdealFit Lean Whey Protein and the Women's Vegan Protein both include extra calcium and vitamin D to contribute to strong muscles and bones.
Great, so normal protein supplementation can help both our bones and our muscles. How much protein should we get every day and where should we get it from? Let's cover that next.
Myth Number 3: Protein only comes from meat
This is a big reason why many women don't get enough protein. Protein only comes from meat, right? and we've all seen the reports that say we should be cutting down on meat, right? Well… half right. Gorging on meat – especially red meat – can have adverse health effects, true. It's not true that protein only comes from meat. It's true that as far as supermarket sources of protein go, meat, seafood and dairy products, have more protein per ounce than other foods.
Luckily, however, there are plenty of vegetarian and vegan protein sources: beans, lentils, quinoa, chia seeds, and most nuts, for instance, all are relatively high protein non-meat, and non-dairy food sources. However, these sources also come with fat and carbs that you might not need – or want – to add to your diet. Consequently, if these are your only sources of protein, you ought to plan them into your eating accordingly.
What is the best source of protein then? You'll find lots of conflicting opinions about this, but the lowest-calorie, easiest to digest, and most concentrated source of protein is probably a protein supplement like IdealFit Whey Protein Isolate Powder. An isolated whey protein source like this is quickly absorbed and adds relatively little to your overall calorie intake: you simply don't have to add more meat to your diet to get more protein!