We all know that protein is so important in helping our fitness regime by fueling our muscles and keeping us full throughout the day. However, while you might be eating protein at every meal, are you including plenty of protein in your snacks?
The majority of so-called 'healthy' snacks on the market, such as cereal bars or fruit compotes, are laden with calories and sugar, causing your blood sugar levels to spike and leaving you hungry half an hour later. This can cause our bodies to crave even more sugar and consequently, gain weight. If you're looking for a sensible and sustainable approach to fitness and staying in shape, you need to be smart about your snacking! That means high-protein, low sugar snacks that will keep those cravings and bay as well as work to rebuild your muscles after a workout.
Try these 20 healthy high-protein snacks and give your body exactly what it needs for the best possible workout results and prevent unhealthy binges between meals!
They're also delicious! Get ready to crave something good for you!
1. Thai Lettuce Wraps with Peanut Sauce
For the wraps:
2 large boneless skinless chicken breasts, cut into bite-sized pieces
sesame oil
Cos lettuce, washed and separated
1 large cucumber, peeled and thinly sliced
1 c multicoloured bell peppers, thinly sliced
1 c  carrot sticks
1/4 c green onions, thinly sliced
fresh coriander, chopped
For the sauce:
4 tbsp. rice vinegar
4 tsp. garlic, minced
4 tsp. sesame oil
4 tsp. agave nectar or honey
4 tsp. low-sodium soy sauce
2 tbsp. PB2 peanut butter powder
Lightly coat a nonstick pan with sesame oil and heat over medium heat. Season chicken breasts with salt and pepper, then sauté until cooked through. Set aside to cool while you prepare your veggies.
Combine all sauce ingredients and whisk until smooth.
Assemble wraps in lettuce leaves, then top with or dip into sauce!
Makes 3 servings.
2. Chicken Avocado Boat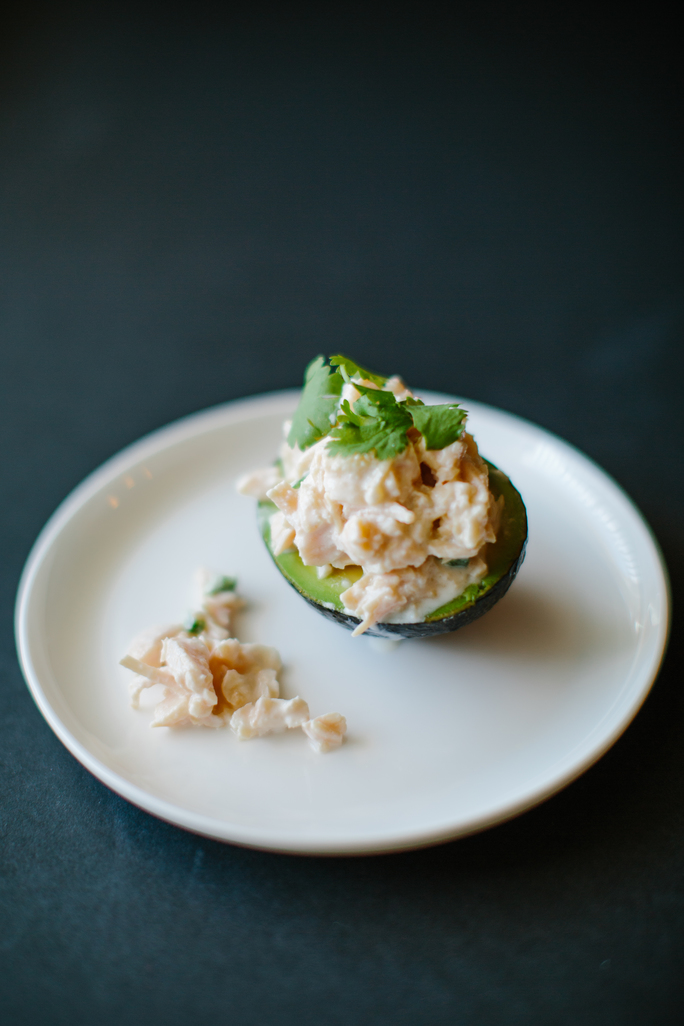 70g chicken, drained
2 tbsp. plain greek yoghurt
1/4 tsp. minced garlic
1/2 tsp. lime juice
1/2 tsp. jalapeno pepper, minced
1/2 of an avocado
Blend together greek yoghurt, minced garlic, lime juice and jalapeno until smooth.
Mix with chicken and spoon into the avocado. Garnish with coriander leaves and enjoy!
Makes 1 serving. 
3. Smoked Salmon with Cream Cheese on Wholegrain Crackers
70g smoked salmon
30g fat-free cream cheese
2 whole grain crackers
chives (optional)
Lightly spread whole grain crackers with cream cheese, then top with smoked salmon and chives. A super savoury snack!
Makes 1 serving.
4. Avocado Egg Salad on Rice Cake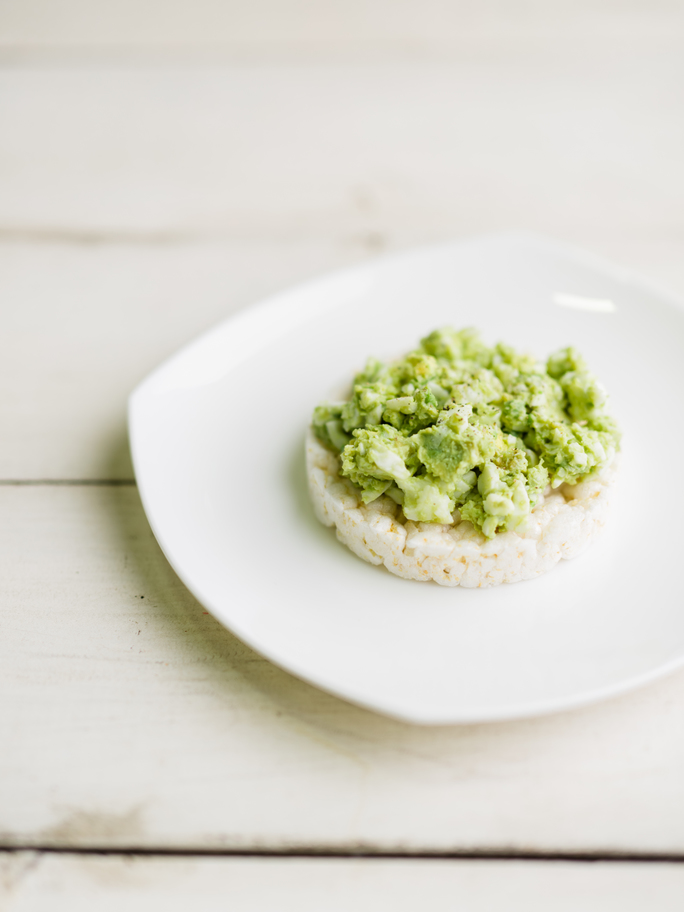 1 large egg, boiled
1/4 of an avocado
1 lightly salted rice cake (around 35 cals)
salt & pepper to taste
Mash boiled egg and avocado and mix until combined. Spread onto rice cake and add salt & pepper to taste.
Makes 1 serving.
5. Creamy Salsa Dip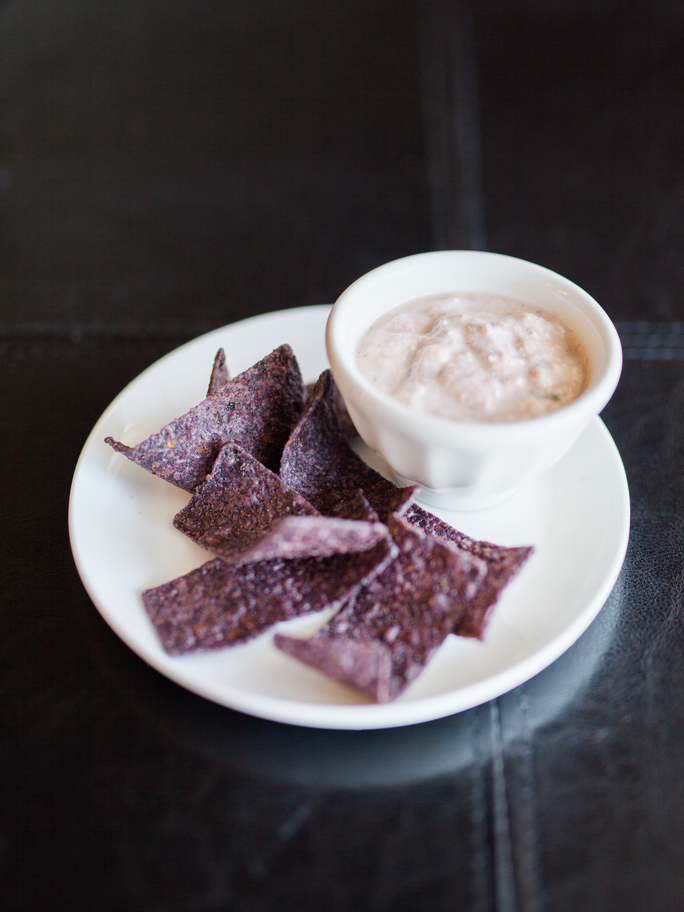 1/2 c cottage cheese
2 tbsp. salsa
Blend cottage cheese and salsa together until smooth. Enjoy with tortilla chips, veggies, etc.
Makes 1 serving.
6. Greek Yoghurt with Devils Eggs
6 large eggs
1/4 c low-fat plain Greek yoghurt
1 tsp. yellow mustard
1 tsp. red wine vinegar
1 tsp. agave nectar or honey
1/4 tsp. salt
1/4 tsp. black pepper
paprika and chives to garnish (optional)
Place eggs in a large pot and cover with water by 1/2 inch. Bring water to a boil and boil eggs for 12 minutes. Drain and chill.
Peel the eggs and cut in half lengthwise. Remove the yolks (carefully!) and place in a small bowl, discarding one yolk. Place whites on a plate or platter.
Mash the yolks with the back of a fork, blending in yoghurt, mustard, vinegar, agave or honey, salt, and pepper. Combine until smooth.
Transfer the filling to a small plastic food storage bag. Snip one corner of the bag off, and squeeze the filling through into the egg whites. (You can also spoon the filling in if that's too much trouble!)
Garnish with paprika and chives and serve!
Makes 6 servings. Each serving is one egg (two halves).
7. Chocolate Chip Cookie Dough Greek Yoghurt
1/2 c plain greek yoghurt
1 scoop French Vanilla IdealLean Protein
1 tbsp. pb2 powder (or any peanut butter powder)
1/2 tsp. vanilla extract
1 tbsp. dark chocolate chips
Mix greek yoghurt, IdealLean French Vanilla Protein, pb powder, and vanilla extract until smooth.
Fold in chocolate chips and enjoy!
Makes 1 serving.
8. Black Bean Dip with whole Grain Crackers
2 x 400g cans low-sodium black beans, drained and rinsed
2 tbsp. balsamic vinegar
2 tbsp. lime juice
1/4 c fresh coriander, chopped
1/4 c green or red salsa (your fave)
1 tsp. garlic, minced
1/2 tsp. chilli powder
1 tsp. ground cumin
1 tbsp. onion powder
salt and pepper to taste
Crackers and your fave sliced veggies for dipping
In a food processor, combine all ingredients except crackers and vegetables. If the mixture is too thick, you can add water 1 tbsp at a time until you've reached the desired consistency.
Transfer dip to a bowl and serve with crackers and veggies!
Makes 4 servings. Each serving is 1/2 cup of dip.
9. Chicken Quesadilla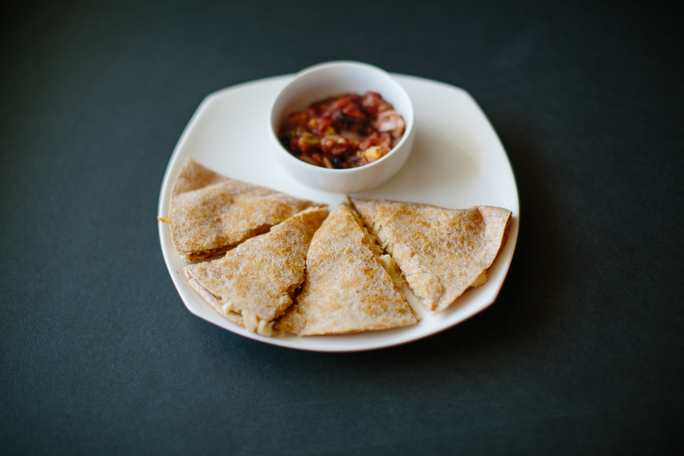 1 whole wheat tortilla (100 cals)
70g  chicken
1/4 c mozzarella cheese
On one half of the tortilla, spread chicken and cheese evenly.
Fold in half and place in a saucepan over medium heat.
Flip quesadilla once one side is golden and cheese has started to melt. Remove from heat and enjoy plain or with salsa!
Makes 1 serving.
10. Cottage Cheese and Peaches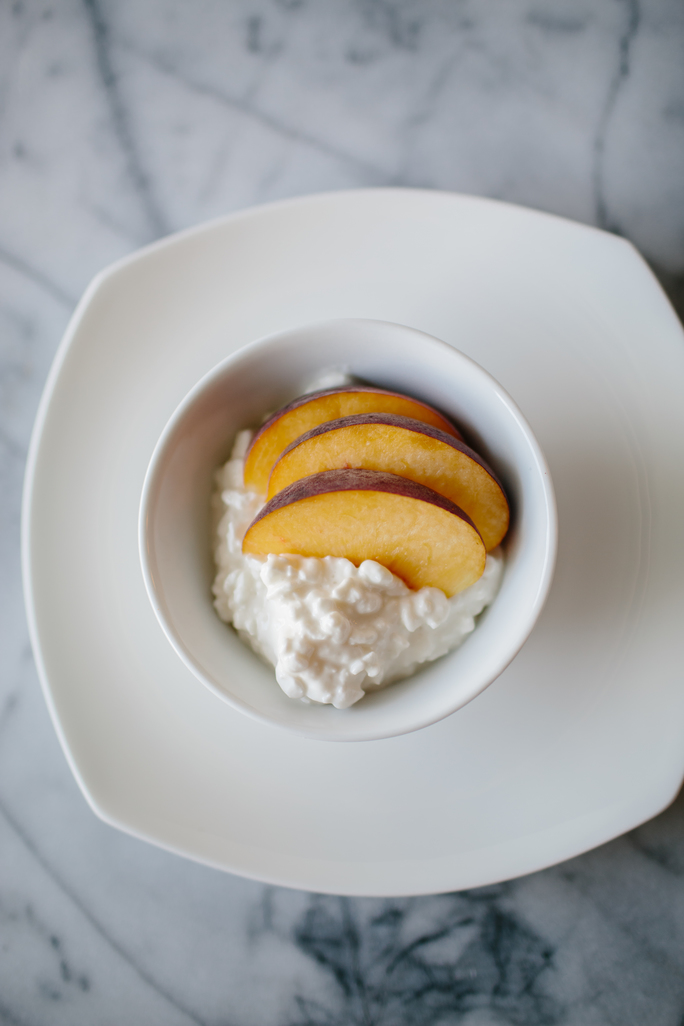 1/2 c low-fat cottage cheese
1/2 peach, sliced
Top cottage cheese with peach slices & enjoy!
Makes 1 serving.
11. Dark Chocolate Chia Pudding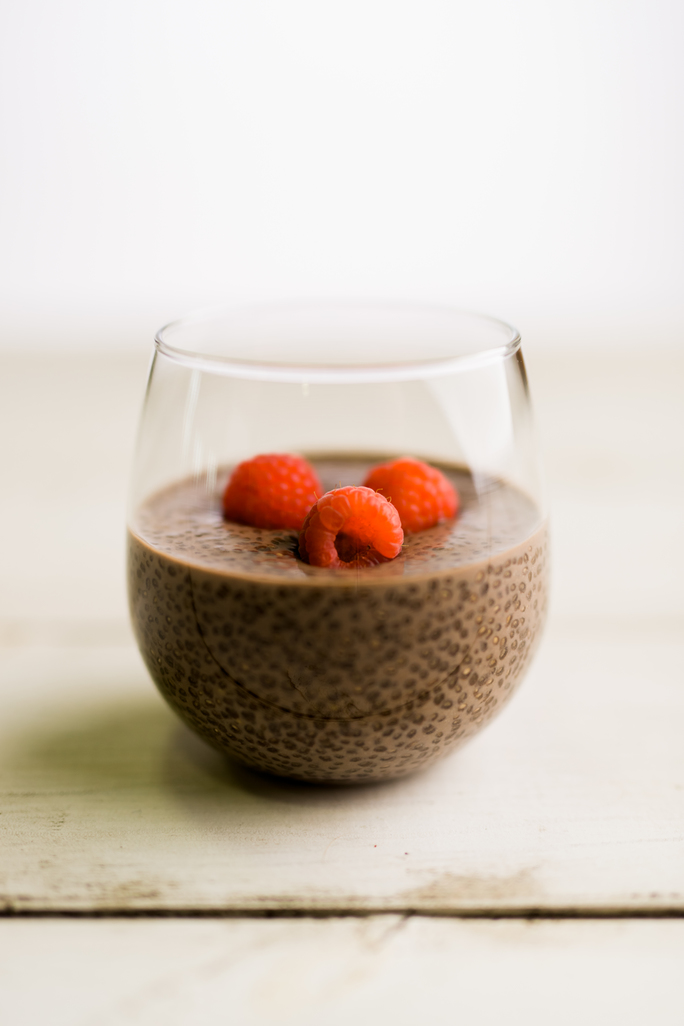 1 c unsweetened almond milk
1 tsp. dark cocoa powder
3 tbsp. chia seeds
Mix all ingredients until smooth.
Refrigerate overnight or at least 8 hours and enjoy!
Makes 2 servings.
12. Coconut Berry Parfait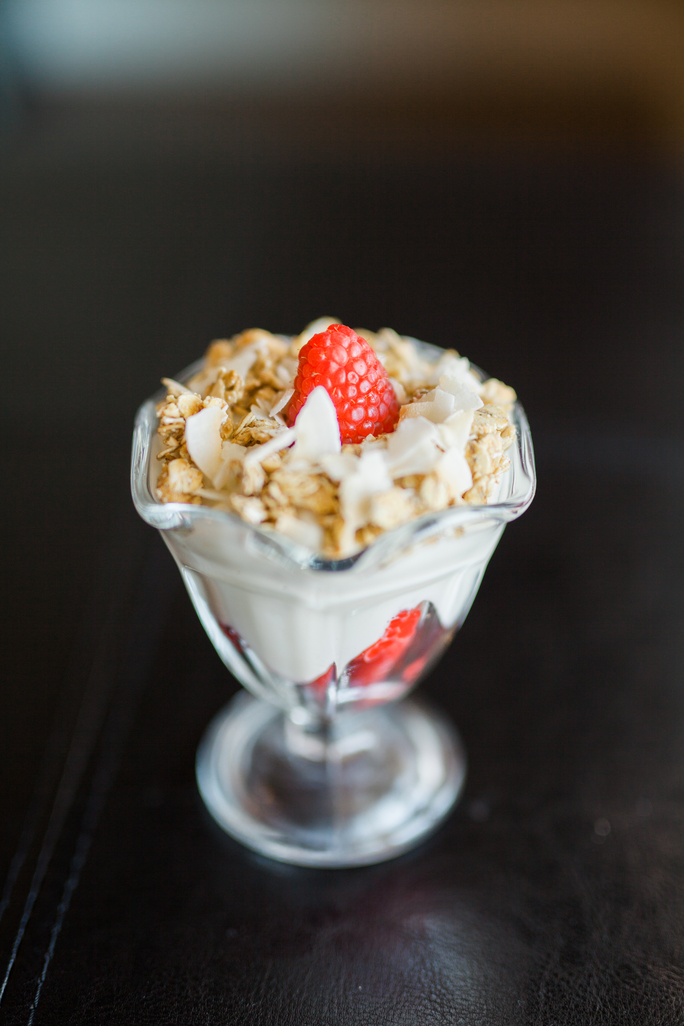 1 single c coconut flavoured greek yoghurt (around 80 cals)
2 tbsp. granola
1/2 c raspberries
1 tbsp. desiccated coconut
Layer raspberries and yoghurt. Top with granola, shredded coconut, and raspberries. Enjoy!
Makes 1 serving.
13. Roasted Chipotle Chickpeas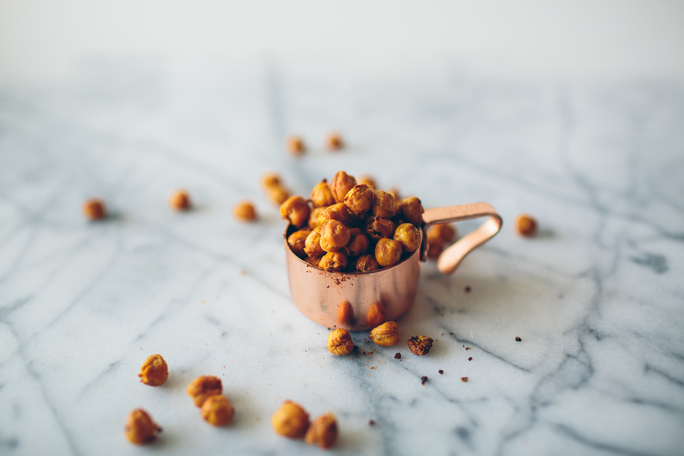 1 (15 oz) can chickpeas
2 tbsp. olive oil
2 tsp. chipotle seasoning
Preheat oven to 200 degrees celsius.
Drain and rinse chickpeas, then mix with olive oil and chipotle seasoning until fully coated.
Spread onto baking sheet and bake for 30 minutes.
Prep time: 2 minutes
Bake time: 30 minutes
Makes 3 servings. 
14. Tuna Salad on Crackers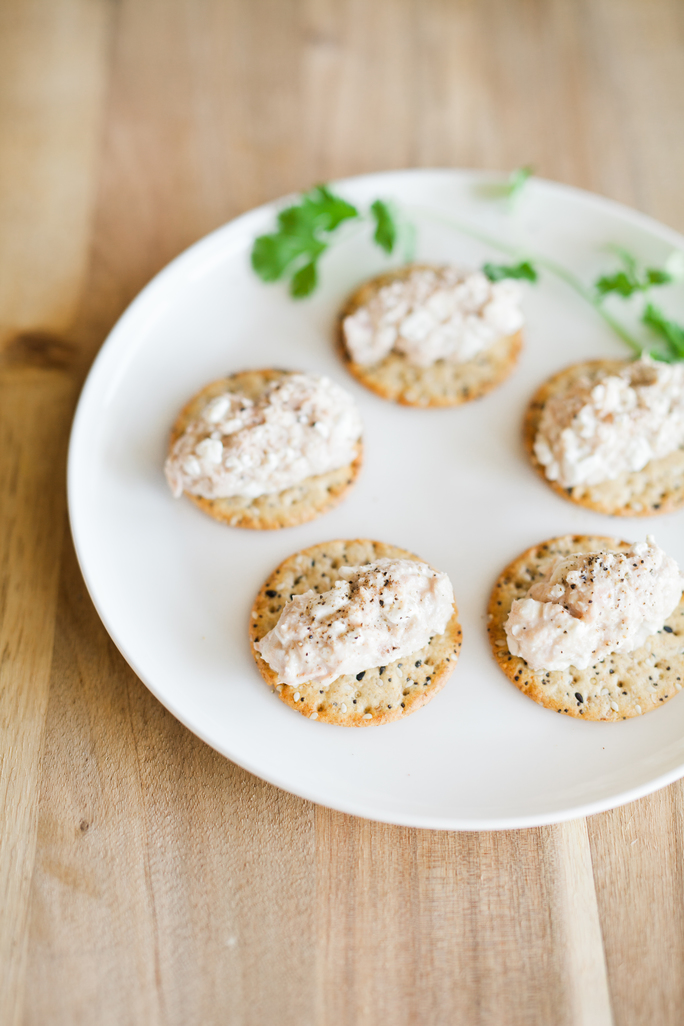 1/2 can of tuna
1/4 c lowfat cottage cheese
1/2 tsp. vinegar
salt & pepper to taste
5 whole wheat crackers
Drain tuna and mix with cottage cheese, vinegar, and salt and pepper. Spread tuna mixture onto whole wheat crackers and enjoy!
Makes 1 serving.
15. Turkey Rolls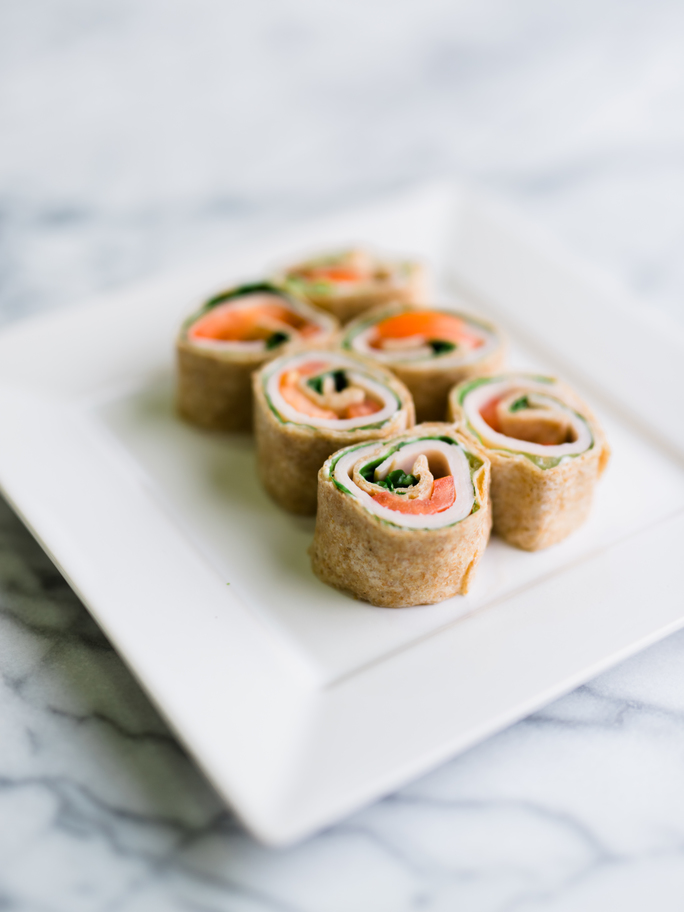 1 tbsp. plain greek yoghurt
1 tsp. chipotle seasoning
1 whole wheat tortilla (around 100 cal)
2 oz sliced turkey breast (around 50 calories)
1 large romaine lettuce leaf
4 tomato slices
Mix greek yoghurt and ranch mix seasoning and spread mixture over entire tortilla. Layer romaine lettuce leaf, turkey slices and tomatoes.
Roll tortilla tightly and continue rolling until tightly wrapped.
Cover with plastic wrap and refrigerate for at least half an hour. Cut into 6 or more slices and enjoy!
Prep time: 5 minutes
Fridge time: 30 minutes
Makes 1 serving.
16. BBQ Garlic Chicken Kebab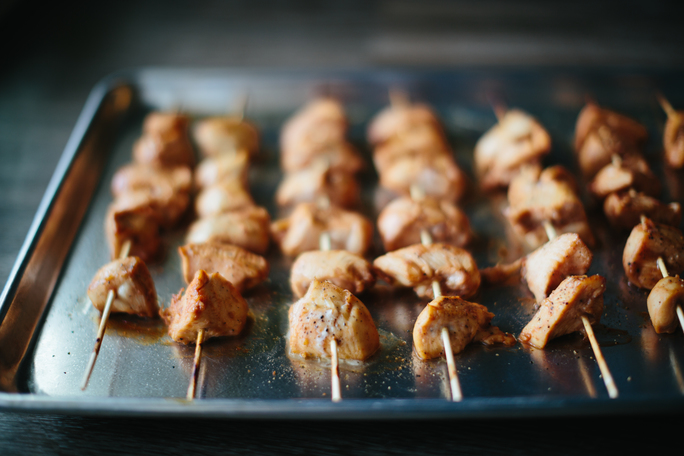 2 lb boneless skinless chicken breast
1 tsp. Minced Garlic
1/4 c bbq sauce
salt and pepper
Preheat oven to 200 degrees celcius.
Cut chicken into 1 inch cubes.
Mix chicken with minced garlic, bbq sauce, salt and pepper, and let marinate in fridge for at least an hour.
Slide marinated chicken pieces onto 7 wooden skewers and cook for 15-20 minutes or until chicken is no longer pink.
Flip skewers halfway through cook time to ensure chicken is cooked thoroughly. Makes approximately 7 kebabs.
Makes approximately 7 servings. Each serving is 1 kabob. 
17. Single-serving Protein Yoghurt Dip with Fruits and Nuts
100 calorie non-fat plain Greek yoghurt
2 tbsp. natural peanut butter
2 tbsp. PB2 peanut butter powder (or any other peanut butter powder)
1 tbsp. agave nectar or honey
1/4 tsp. cinnamon
your fave fruits and nuts!
Combine all ingredients except fruits and nuts, and chill. Serve with fruit and nuts for dipping!
(If you're in a hurry, you can even mix the dip right in the single-serving yoghurt container.)
Makes 1 serving. 
18. Creamy Egg Pesto Toast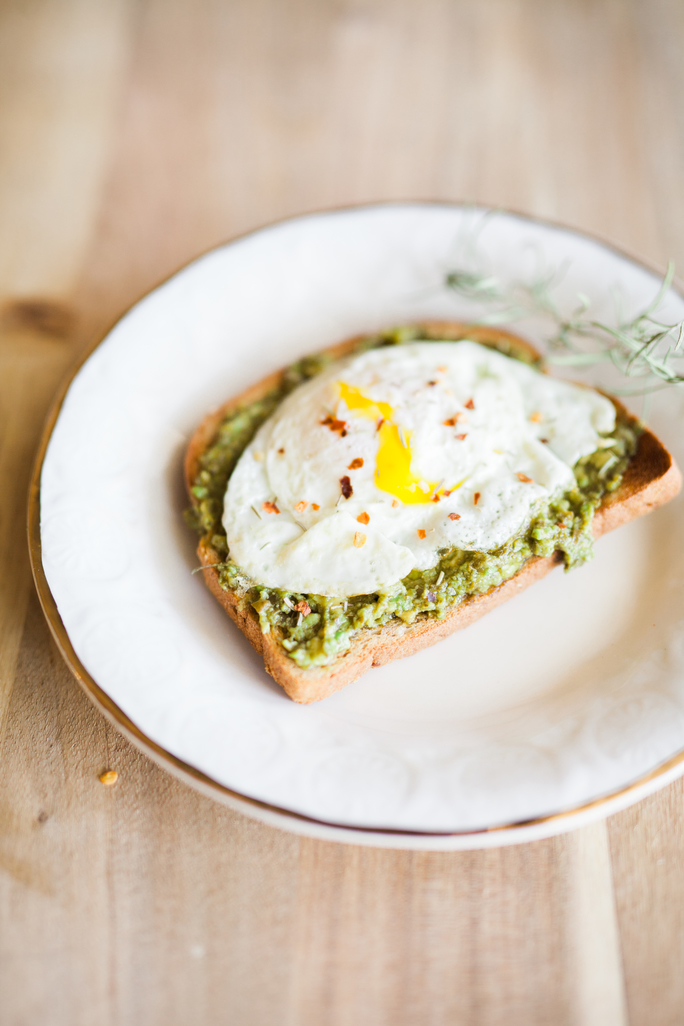 1 large egg
1 tbsp. pesto sauce
1/4 avocado
1 slice Wholewheat bread, toasted
Mash avocado and mix with pesto until combined.
Spread mixture onto toasted bread.
Cook egg in desired way (fried, poached, scrambled, etc.) and place onto toast.
Season with salt, pepper, and rosemary to taste. Enjoy!
Makes 1 serving.
19. Protein Balls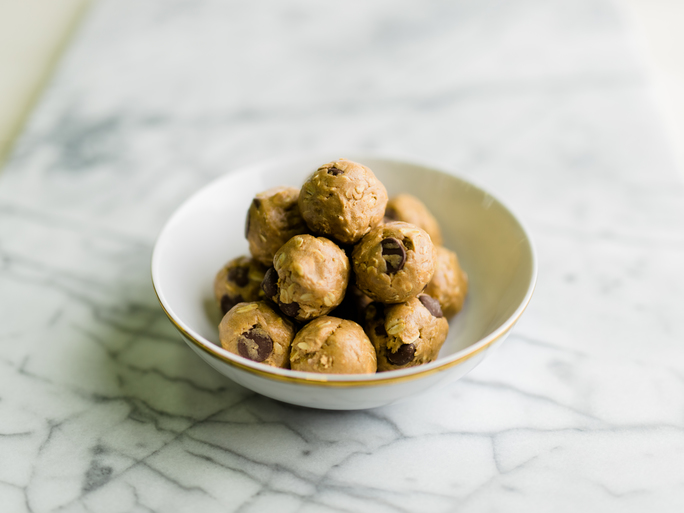 1 c old fashioned oats
1/2 c peanut butter
1/3 c honey
1/3 c dark chocolate chips
1 tsp. vanilla extract
Mix together oats and IdealLean Chocolate Brownie Protein.
Add peanut butter, honey, and vanilla extract and mix until combined.
Fold in chocolate chips.
Roll into 8 servings.
Each serving is 2 bites.
20. Creamy Peanut Butter Ice-lollies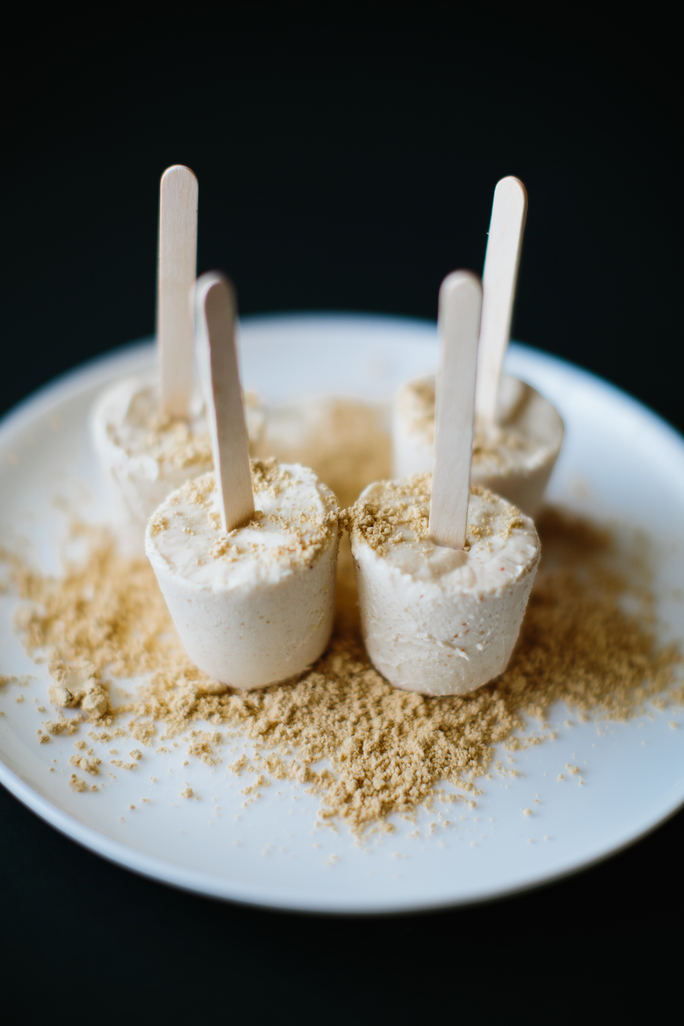 1 c plain greek yoghurt
1 tbsp. honey
2 tbsp. peanut butter
Mix all ingredients together until combined.
Pour into ice-lolly mould and freeze.
Makes 4 servings.