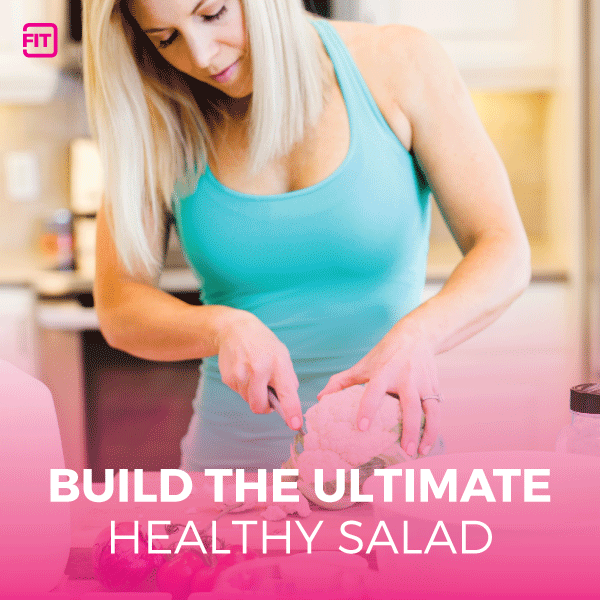 Let's talk about s…alad! When made right, they're nutrient-dense, filling, flavourful, AND you can make mega portions. It makes them the perfect meal. Plus, switching up your ingredients means no two salads have to be the same.
Let's talk about s…alad! When made right, they're nutrient-dense, filling, flavourful, AND you can make mega portions. It makes them the perfect meal. Plus, switching up your ingredients means no two salads have to be the same.
However, don't be fooled. Just because you're eating a salad doesn't mean it's always healthy. They can be a calorie-filled, fat-laden mixture of creamy dressing topped with bacon that has a calorie count equal to deep-dish pizza. On the flip side, it can also be a boring plate of green that would lead anyone to dive face-first into that pizza.
So, my approach here is different – it's the best of both worlds. Salad can satisfy your hunger, be healthy, and taste amazing if you do it right; I'm talking large salad bowls filled with protein, carbs, AND fat!
Here's a few helpful tips to get creative with your salads! It's the perfect go-to meal for low-impact to your macros and high-impact to your nutrition and taste buds.
FREE MEAL PLANS
Take all of the guess work out of it with my FREE 15 Day Fit Body Challenge, that includes meal plans, workouts, and support to help you reach your fitness goals.
My Recipe for a Healthy Salad
1. GREENS
Let's start with what makes a salad a salad—greens! I love a variety of greens. It really makes a difference to me in taste and texture of my salads. So I usually keep a couple different types on-hand. You really can't go wrong here; use whatever you enjoy.
Think variety—they all have different tastes and crunch:
Romaine
Iceberg
Spring greens
Spinach
Kale
Cabbage
Broccoli
Experiment, and mix them up!
2: PROTEIN
Of course protein is really the star of a main-dish salad; otherwise, it really is just a side dish. You'll forever hear me talk about the importance of protein, so don't skip it here!
Grilled chicken
Steak
Fish
Prawns
Turkey or lean beef
Eggs
Tofu
Cottage cheese
You can even throw in deli meat, canned chicken breast or tuna in a pinch if you don't have any protein prepped. Just figure out how much you need, slice it or shred it up and toss it in there.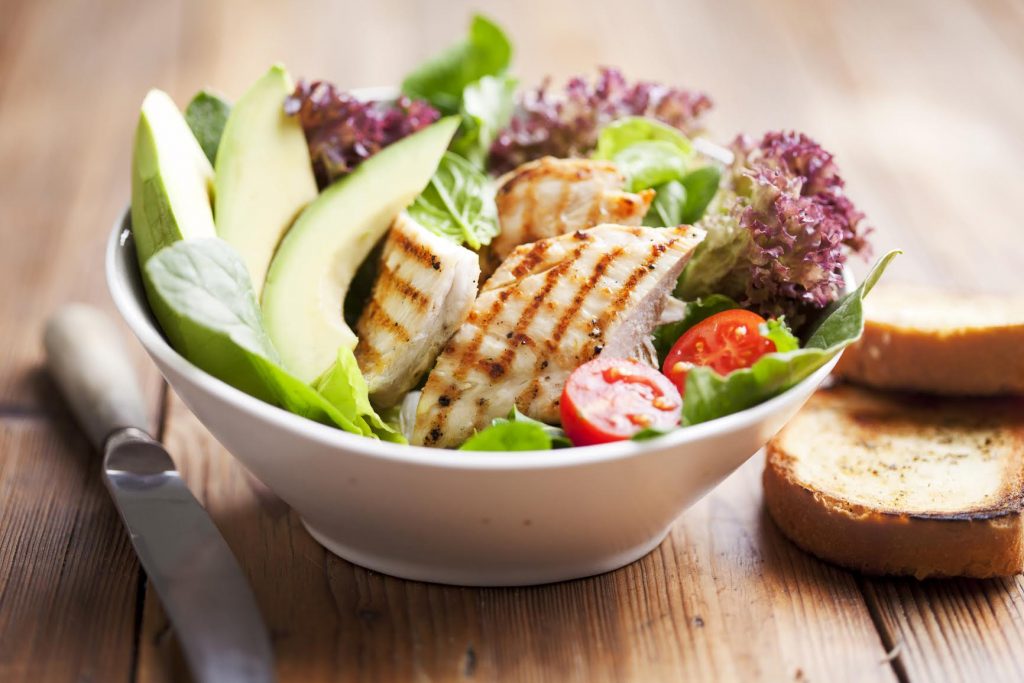 3: CARBS ALWAYS BELONG IN SALAD
I'm serious! My favorite carb to add to my salad is probably rice (white or brown), but check out these ideas:
Beans (black, chickpeas, kidney etc.)
Potatoes (sweet, red, white etc.)
Quinoa
Barley, Couscous, etc.
Pasta
Fruit
Baked tortillas—for crunch!
A hearty, healthy complex carb adds bulk and substance to your salads. Remember, these are main-dish type salads, not something we're eating off of tiny plates on the side of our roast and potatoes. So keep these types of carbs in mind when you meal-prep each week. You could cook them in bulk, and add some to your salads.
4: VEGGIES
Load them up! I love this part of salad-making most of all because it adds so much volume with low-impact to my carbs and overall calories. My favorites include:
Tomatoes
Onions
Peppers
Mushrooms
Cucumbers
Asparagus
Green beans
Celery
Radish
Sometimes I even throw in my steamed or roasted veggies that I meal prep and then add more raw veggies (I know, I'm obsessed)!
My salads usually end up taking on a theme depending on the flavours I want to use and I just go with it—taco style, Greek, chef, BBQ, etc. which really adds variety to my diet and stops me from getting bored. I really encourage everyone to get a big creative with their salads. Get all the veggies in there!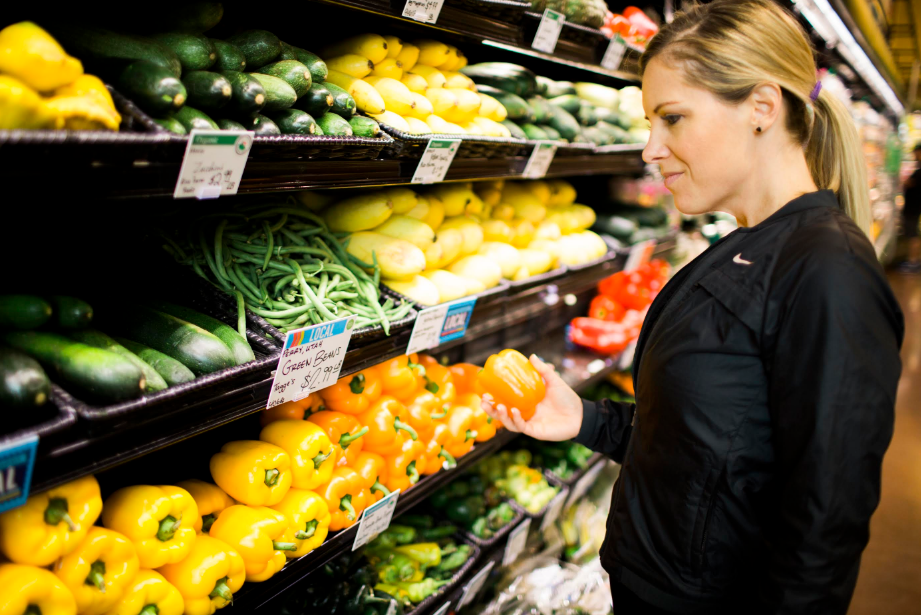 5: FAT
Yes, fat definitely has its place in salad. You NEED a little fat if you expect to absorb all the nutrients available in a salad. It just needs to be moderate; a little goes a long way! Avocado, nuts, cheese, and of course dressings are all great…but don't go overboard! When that happens, you realise you may as well have gone out for a burger and fries. So pick one or two, depending on how much you use.
There are lots of great low-calorie, yet pretty tasty dressings available now that still allow you to add a little avocado or cheese to a salad and not rack up the fat calories overall. And if dressing just doesn't fit—it's OK! You can add lemon or lime juice, vinegars, salsa, hummus thinned with water, a little greek yogurt, or soy sauce. Once those mix with your avocado or cheese, it really makes its own dressing and your salad won't be dry and inedible.
6: FLAVOUR ADDITIONS
By "flavour additions" I pretty much mean more veggies. Veggies, whether they're crunchy,  pickled, salty, give your salad that little extra and add so much flavour with minimal impact to macros and calories. So think:
Pickled jalapeños
Banana pepper
Pickled, caramelised, or raw onions
Chia seeds
Hemp seeds
Tortilla chips
It's all about knowing how much you are adding and making it fit!
Your salad awaits!
So, with summer drawing closer, make the time to start experimenting with different veggies and new flavours. They're so easy to throw together and can be eaten on the move in a tuppaware. Be creative and don't be afraid of putting together unexpected combinations. You'll be surprised at the flavours and textures that go really well together. I guarantee you'll feel better in yourself by adding so many more nutrients to your diet, and your waistline will thank you too!
XOXO, Lindsey
Just a tip; if you find you're still hungry after your salad, it probably means you're not getting enough protein! I like to have my salad with a protein shake for a quick and convenient extra boost of protein to keep my satisfied until dinner. My favourite has to be IdealLean Caramel Mocha protein! If you haven't tried all of the IdealLean flavours, what are you waiting for?? Don't be afraid to try new things!