On Friday 28th September, Macmillan are running their annual World's Biggest Coffee Morning, to help raise money for the charity that provide specialist, information and financial support to people affected by cancer.
We at IdealFit think that the World's Biggest Coffee Morning is the perfect occasion to bake some protein-powered recipes for a great cause. That's why we have brought you this recipe guide, to provide you with inspiration and recipes to wow your colleagues and friends at your coffee morning.
If you fancy holding your own coffee morning, head to the Macmillan World's Biggest Coffee Morning site to register and receive a free fundraising pack!
The Chocolate Caramel Recipe
This delicious protein caramel slice recipe by @_hannaheats will be a crowd pleaser at any World's Biggest Coffee Morning – not only is it chocolatey and delicious, but it's also packed with IdealLean Chocolate and IdealLean Vanilla protein powder!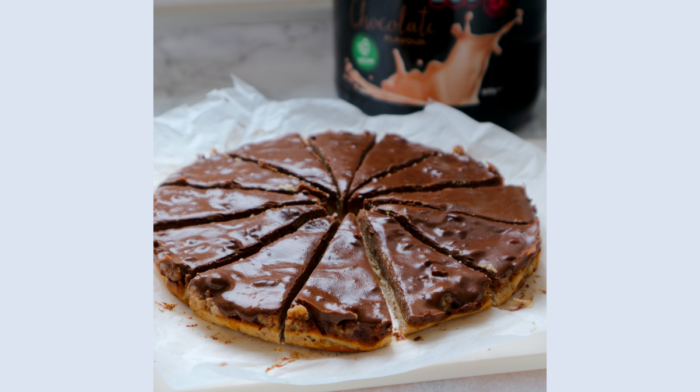 This delicious protein chocolate caramel slice recipe makes the perfect healthy protein-powered treat!
The Banana Bread Recipe
Banana bread is the perfect recipe if you want to whip up a sweet treat for your coffee morning, but don't want to sabotage your fitness goals before the weekend! This recipe is packed full of everything we love: IdealLean Chocolate Vegan Protein, Banana and Peanut Butter.
The No-Bake Butterscotch Recipe
If you aren't exactly a seasoned baker, this no-bake butterscotch bar recipe using our IdealLean Butterscotch protein is easy, quick and requires absolutely no baking. Plus, if you're a lover of Angel's Delight this is the recipe for you! We are sure that these will go down a treat at any World's Biggest Coffee Morning!
The Matcha (Green!) Recipe
This bright matcha protein bites recipe will stand out from the crowd at your coffee morning! These green bites are made with IdealLean Matcha Protein and Coconut and are another great no-bake recipe – you simply blend the ingredients, cut them into squares and pop them in fridge!